NEWS
March 15 (Mon) FALL/WINTER 2021 COLLECTION Side-C vol.6 "DOUBLE-END" Runway Show
beautiful people will hold a runway show at Rakuten Fashion Week TOKYO 2021 F/W project "byR" on Monday, March 15, 2021.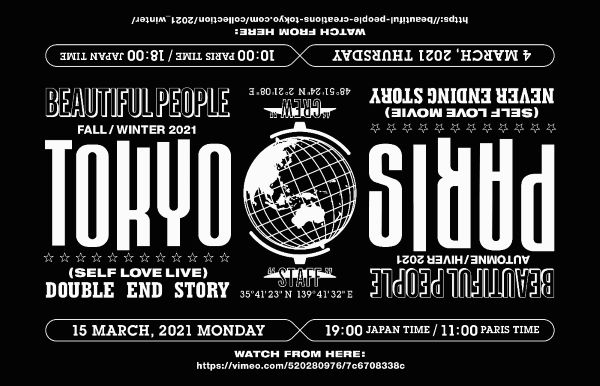 The theme for Fall/Winter 2021 is "Side-C Vol.6 DOUBLE-END".
This season, beautiful people continues to offer multiple ways to wear and interpret garments, finds a further new dimension: a vertical one, in which top and bottom can be both used, switching from one shape to the other in the flip of the axis.
Function stays, shape mutates. By working simultaneously on construction and deconstruction, items turn 90°, 180°, 270° to form new silhouettes and shapes that can be used both ways.
This is the first runway show we do in Tokyo in five years as a counterpart show to the digital show we recently presented in Paris.
These two shows together form the full story of beautiful people FW21 collection.
The Tokyo runway show will be available for live streaming.
Click here for the live streaming.
Please look forward to it.
Rakuten Fashion Week TOKYO 2021 F/W "by R"
beautiful people
FALL/WINTER 2021 COLLECTION
Side-C vol.6 "DOUBLE-END
March 15, 2021 (Monday)
Japan time 19:00 / Paris time 11:00