NEWS
2021 Fall Collection LOOKBOOK page is released today!
Limited novelty gifts with Pre-orders
The collection LOOKBOOK of the beautiful people 2021 Fall Collection is released today.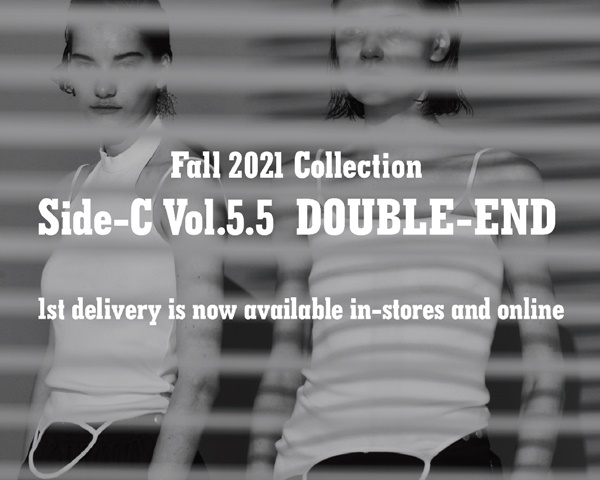 By rotating the top and bottom 180 degrees or 270 degrees, you can change the silhouette and even the use of the item freely as you like.
DOUBLE-END is a collection that evolved from beautiful people's "Side-C" concept, which has focused on the layers and the in-betweens of clothing.
We have created new patterns and constructions by reinterpreting Side-C as a "point" or an "axis".
A garment can be worn as if it were a completely different garment by simply turning it upside down, in 180 or 270 degrees.
By taking out or hiding two body panels attached to the inner-stitched seam(the axis), you can wear a dress as two different outfits that look completely different. In this way, you can switch the dress between a long dress (for adults) and a baby doll dress (for youth) as you like.
This collection gives you the freedom to do "whatever they wish" (Quod Libet).
Enjoy and experience the Fall 2021 Collection
– the new standard proposed by beautiful people.
▼Fall Collection LOOK BOOK
https://beautiful-people-creations-tokyo.com/c/collection/2021-fall/
 In addition, our online store is now accepting pre-orders for Fall Collection items.
Customers who pre-order Fall Collection clothing will receive a novelty gift, exclusive to the online store.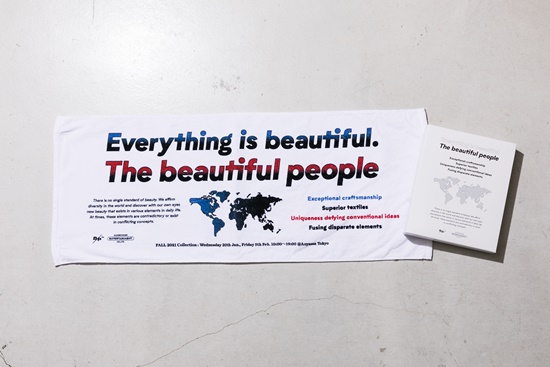 The design of this towel is reminiscent of the concert tour collectibles of rock bands.
▼Click here for the global online store.
https://beautiful-people-creations-tokyo.com/c/
*The novelty gifts will be distributed on a first-come, first-served basis. The distribution will end as soon as they are gone.