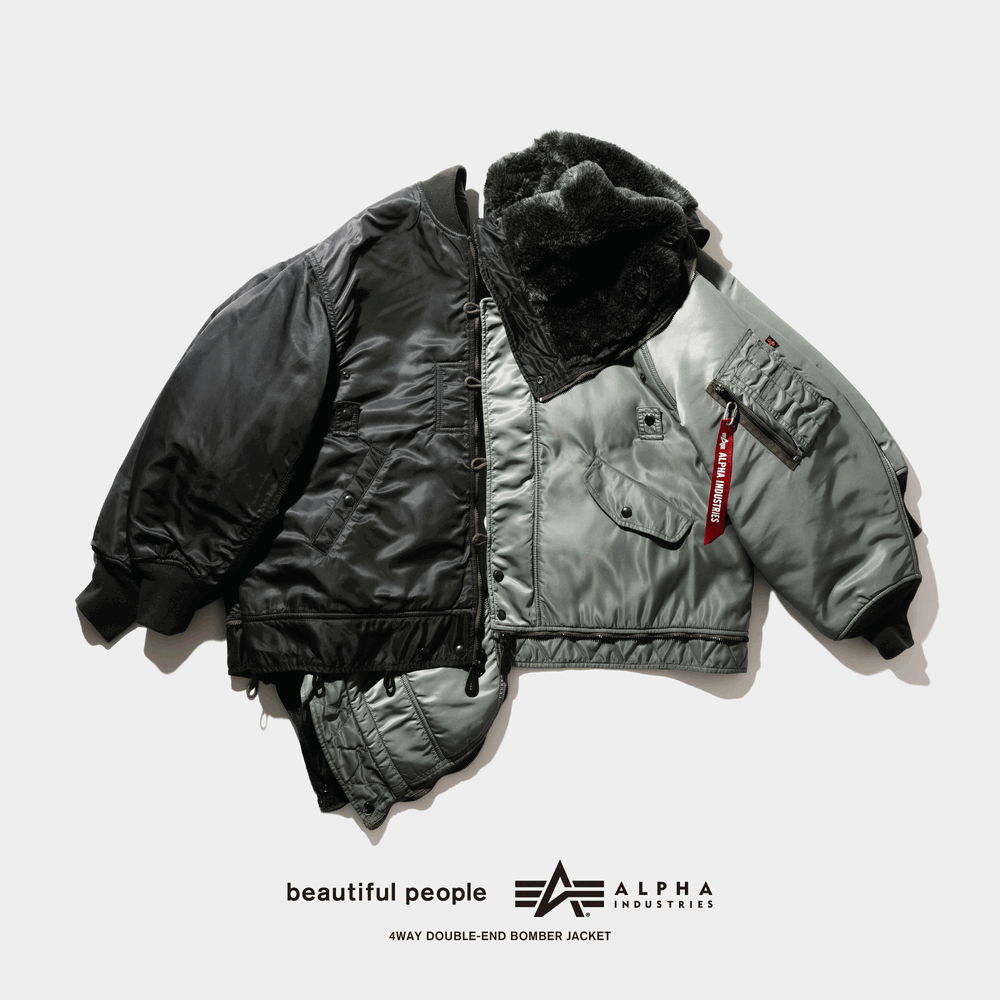 A new collaboration military blouson from beautiful people with military manufacturer ALPHA INDUSTRIES, founded in the USA in 1959.
This is the first collaboration between ALPHA INDUSTRIES, which has a long history as an American military supply manufacturer and boasts a cumulative delivery record of over 40 million MA-1s and M-65s, and beautiful people, which focuses on authentic craftsmanship.
Inspired by a trail sample of a 1958 N-2B flight jacket that was never released to the public and ALPHA's signature MA-1 vintage flight army jacket, the blouson has a surprising 4-way specification that can be worn both inside and outside the jacket. This piece incorporates the "DOUBLE-END" manufacturing concept, in which new functions and forms are created by turning the top and bottom inside out, and was realized through repeated pattern improvements by beautiful people, who specialize in pattern design, focusing on a silhouette that feels good and comfortable to wear.
The fabric is made from ALPHA's standard high-density nylon twill fabric. It is tailored at a factory that has been manufacturing military items for many years, so it is also known for its durability and warmth. This is a one-of-a-kind item that is a fusion of ALPHA's history of reliable manufacturing and advanced pattern techniques unique to beautiful people.
The collaboration is Limited to selling in JAPAN on our japan official online store, direct managing stores and on ALPHA's online store only.
Special Content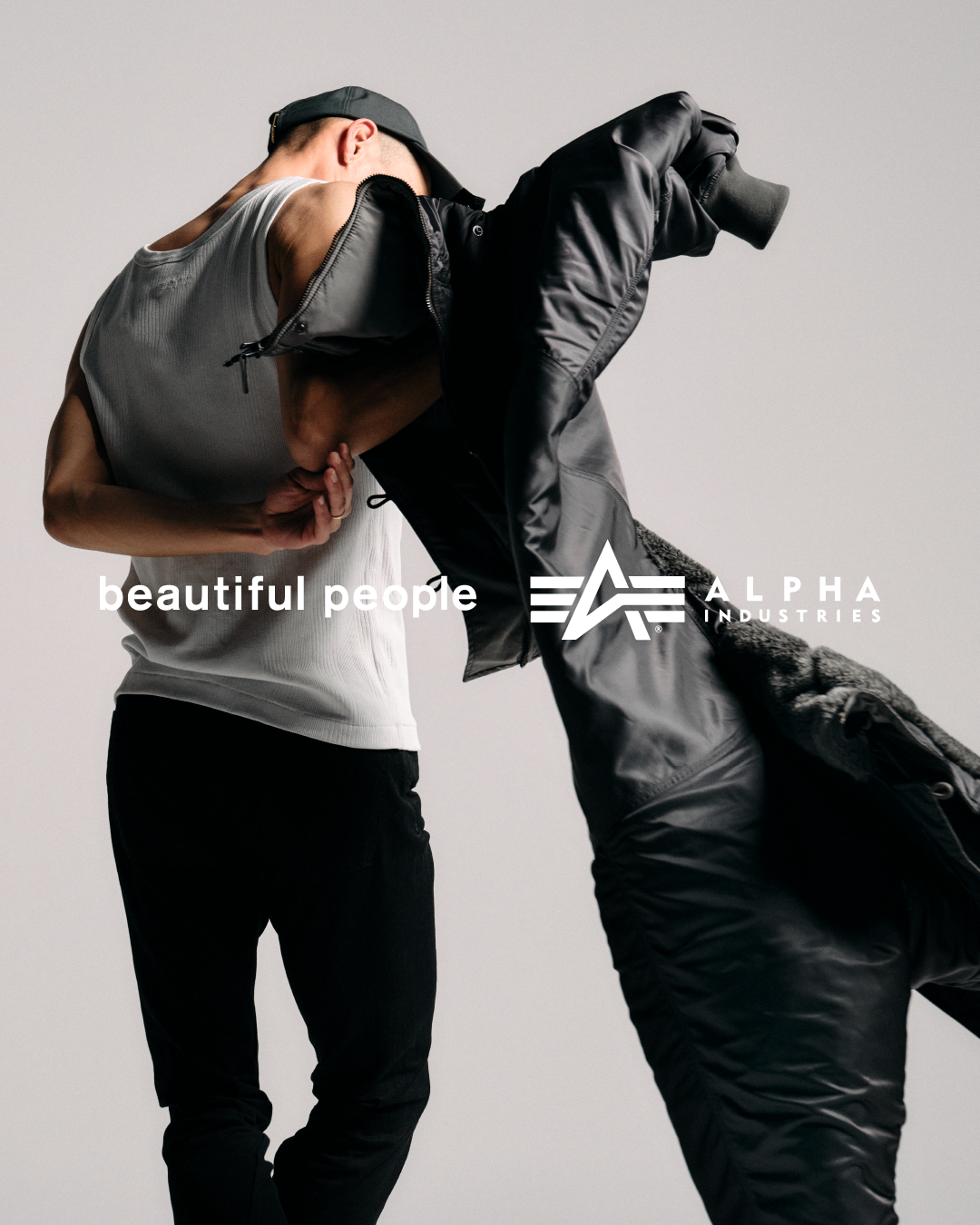 A special content was created with choreography-dancer – TECCHY, to express the freedom, the easiness of wearing the 4ways blouson, by dancing and flipping it inside-out, upside-down.
Check the full version on our official YouTube (through the link button) or on our official Instagram.
Advanced Pattern Making
This flight jacket with a rounded form inspired by the 1958 N-2B test model, it can be turned upside down to become a vintage MA-1 flight army jacket.
When flipped over, the hood part becomes a peplum design that extends from the waist to the hem, giving it a playful silhouette.
The jacket is also reversible, so you can wear either design in grey or navy.
Particular attention was paid to the sleeve pattern. The raglan sleeves can be turned over to form set-in sleeves, and the sleeves are designed to swing forward when worn in either style.
Another feature is that when the top and bottom are turned over, the hood part changes into a peplum and the volume of the body can be changed, allowing you to enjoy a variety of different ways of dressing.
Attention to Detailing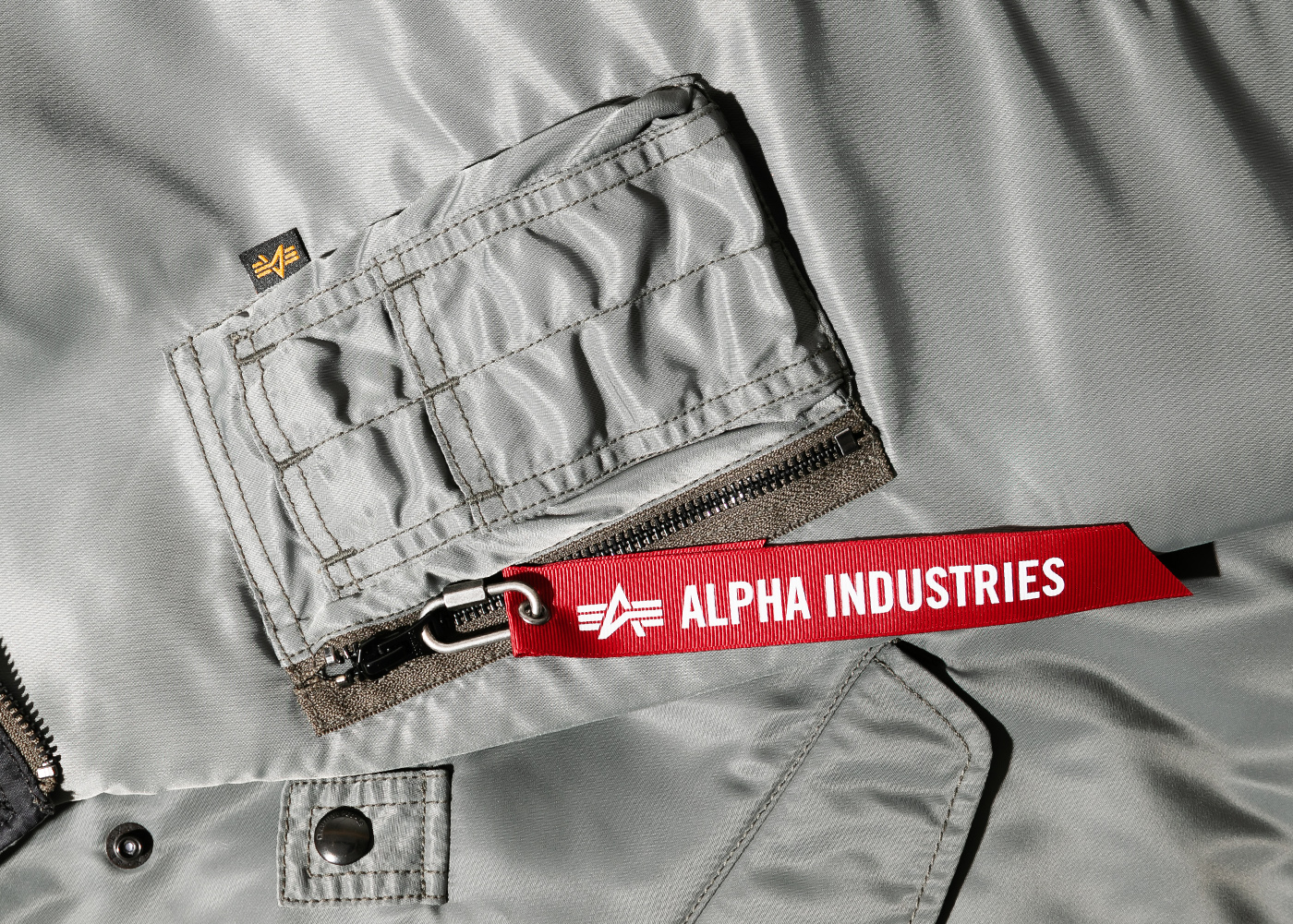 The zippers use IDEAL fasteners and CONMER sliders, which were used on flight jackets in the 50s and 60s. Leather patches are used for the pulls.

The buttons are rubber-like coated buttons with a logo created for this collaboration.

The fur material on the hood is made from eco-fur with a vintage feel. Inspired by the alpaca lining of US military jackets, the fur becomes a voluminous collar when the hood is open.

ALPHA's trademark red ribbon tag is a unique design point that changes its visible position depending on the wearing style of the 'DOUBLE-END'.

Nylon twill fabric, woven with thick yarns and high density, is a representative material of ALPHA, characterised by its thick wall thickness, strong gloss and firmness.

When turned over, the hood part changes into a peplum design.
Not only the visible materials and details on the front but also the double name of beautiful people and ALPHA INDUSTRIES on the back of the pockets, etc., are packed with the commitment to craftsmanship and the playful spirit of beautiful people down to the smallest detail.
[JAPAN EXCLUSIVE] Alpha double-end nylon flight jacket
Color: gray*navy
Size: 34/36/38/40/42
Material: 100% Nylon
Lining: 50% Acrylic, 30% Polyester, 20% modacrylic
Price: 99,000 yen (tax-in)
about ALPHA INDUSTRIES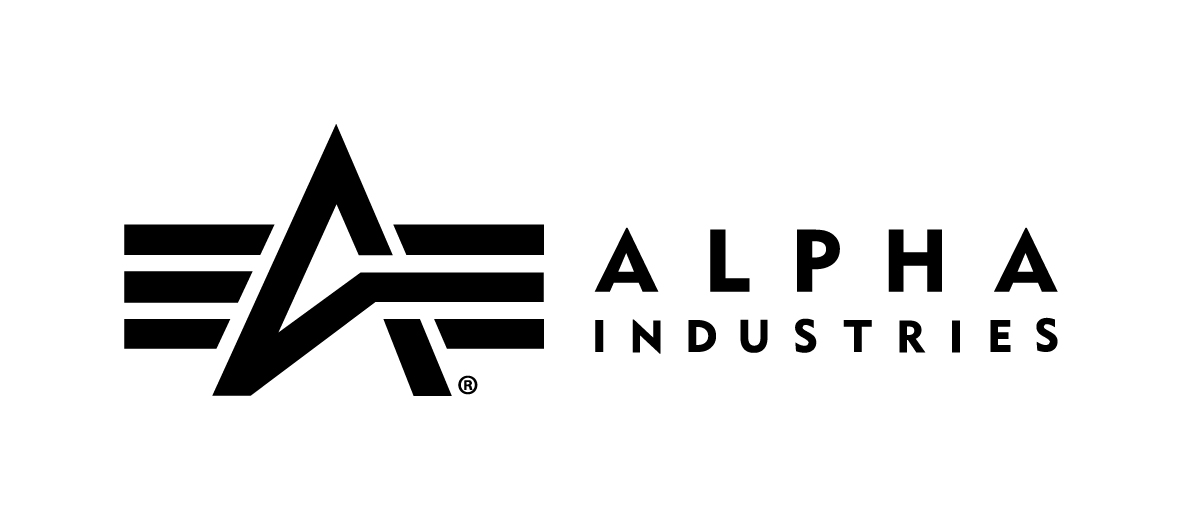 ALPHA INDUSTRIES was established in 1959 in Knoxville, Tennessee, and began producing military jackets at the request of the US Department of Defence. Since then, the company has reigned for more than 50 years as a constructor for the US military, meeting the highest quality standards, known as Mil-Spec.
The company has delivered more than 8 million M-65s to the Army and more than 40 million items to the Air Force and Navy, including MA-1s. This fact is the reason why the brand is known as the KING OF MILITARY. The brand's iconic red ribbon, orange lining and two-tiered woven sleeve ribs all have their origins in practical use.
The Alfa is backed by history as the KING OF MILITARY, but today it is deeply loved not only by military fans but also by fashion users, bikers, and campers around the world, thanks to its high functionality and design.